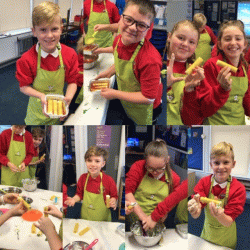 13th January 2020
Year 5 and 6 pupils all took part in a cooking workshop today with Kiddy Cook company.
The pupils all worked together to make their own vegetable cannelloni. The dish was filled with foods from each food group to make it a balanced meal. The pupils will be bringing a copy of the recipe along with the method home with them tonight.

Thanks to Kiddy Cook company for working with the pupils.
Diolch.