About Our School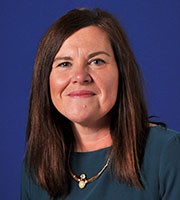 Miss Catrin Evans Headteacher of Ysgol Gymraeg Cwmbrân
Ysgol Gymraeg Cwmbrân is a Welsh Primary School which was opened as an Infant and Junior School in September 1991 serving the catchment area of Cwmbran town and environs. In September 1997 a Nursery class was opened as part of the school. The school accepts pupils in accordance with the County Policy from the beginning of September following their fourth birthday or from the beginning of September following their third birthday to the nursery class.
During the term prior to the date on which the child is due to start, each parent is invited to the school to meet the staff and to ask and discuss many key questions and issues. In addition each child has an opportunity to visit the school for a period of time. At the beginning of the new term the children will be given a chance to settle down in small groups before the class is registered as a form.
Ysgol Gymraeg Cwmbrân is a Welsh school and all pupils from the ages of 3 to 11 are educated through the medium of Welsh. They are always encouraged to show pride in their ability to speak Welsh. English is taught as an additional core subject at Key Stage 2.
The main aim of the school is to give each pupil the opportunity to develop to his full potential by nurturing attitudes and sharing experiences that will serve as a strong grounding for adult life. This is done whilst encouraging a pride in Welshness and a loyalty towards community and heritage.
Aims and Objectives
All children are equal to each other but we also accept that children differ from each other and that they can succeed in different ways. We respect every pupil of all races, colour and creed, and we hope to teach the children to develop by respecting children of all cultures and creeds based on their respect of the two languages and cultures in their own country. We expect children to work hard, to enjoy school life and to keep the rules of the school. In other words we expect them to work at their tasks and to be pupils of a Welsh Medium Primary School.
It is our aim to develop the pupils into independent learners who can research well and can work together as a team in a caring and respectful atmosphere.
Prospectus
Those parents who wish to find out more about Ysgol Gymraeg Cwmbrân can download the full prospectus by clicking on the following link:
Ysgol Gymraeg Cwmbrân Prospectus 2020 (2.70MB PDF)