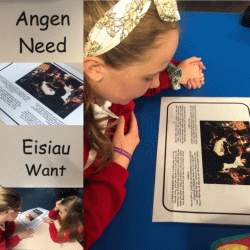 6th November 2019
Year 2 and 6 year pupils will be receiving sessions from Spectrum Cymru over the next few weeks.
As part of our Health and Well-being work in school, pupils in years 2 and 6 will be receving sessions by Spectrum Cymru about safe and healthy relationships. The sessions started today with a lesson on the things we want and the things we need.

For more information about the work of the Spectrum Project, please visit the website below.

Diolch yn fawr.