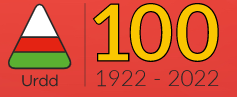 7th January 2022
Over the next few weeks, we'll be preparing for the Urdd's 100th birthday.
Everyone in the school will learn the song 'Hei Mr Urdd!' so, to practise at home, click on the link below.

There is a copy of the words on the website. (Under the 'School Letters' section.)

On Tuesday, January 25th, the pupils can come to school in their green, white and green clothes, if they wish.
(Details to follow.)

Diolch yn fawr.